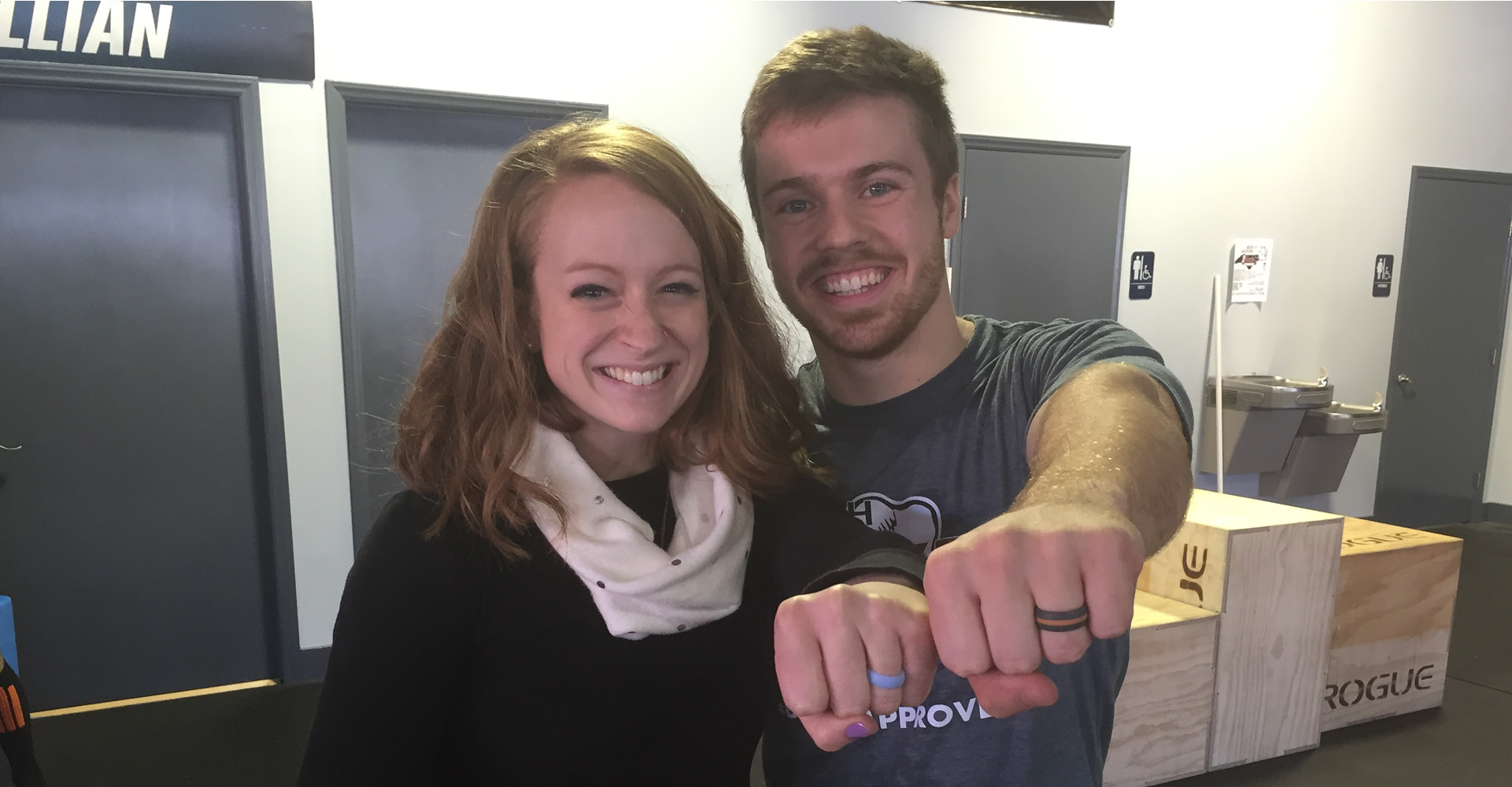 Now is the perfect time to protect your finger, protect your traditional wedding ring and protect your marriage with a TOUGH LOVE RING™!
Many jobs forbid the wearing of metal due to safety hazards and wearing TOUGH LOVE RINGS™ eliminates that risk. Active lifestyles can be very rough on metal jewelry; however TOUGH LOVE RINGS™ can be worn comfortably during the most strenuous of activities. In many cultures, people can easily interpret no wedding ring in public as a person who is on the market. There are also varying medical conditions like rheumatoid arthritis (RA), painful joints or acute swelling that can make it difficult for someone to wear hard jewelry.
What are TOUGH LOVE RINGS™?
TOUGH LOVE RINGS™ are a functional solution for HARD WORKING HANDS™!
TOUGH LOVE RINGS™ are THE most comfortable, safe and practical alternative to the traditional metal wedding ring. They are made of medical grade, hypo-allergenic, non-porous, non-conductive premium silicone rubber. Strong and durable, they are easy to put on or take off. Our smooth finish, classic colors and designs match any outfit, uniform or cause.
Who wears TOUGH LOVE RINGS™?
All professions, all people and all lifestyles wear Tough Love Rings! This includes CrossFitters, Police Officers, Firefighters, Military, Construction Workers, Athletes, Runners, Cyclists, Farmers, Mechanics, Plumbers, Electricians, Doctors, Nurses, Fishermen, Boaters, Weight Lifters, and much more! Even cancer survivors raise awareness and Show Strength™  with TOUGH LOVE RINGS!
Represent your Marriage™ or Rock your Cause™ anywhere with TOUGH LOVE RINGS!
Does each color or design mean anything?
Colors and designs can carry different meanings to different people. We originally chose a few colors to represent some of our favorite local universities, however we have come to learn that people also show support for their favorite cause with TOUGH LOVE RINGS™. As interest in our products has grown, we have chosen to expand our designs to recognize and honor various professions and commitments.
How did TOUGH LOVE RINGS™ get started?
The idea came to us as we were working out and we realized that we didn't have a consistent place to keep our precious metal wedding ring safe from harm, damage or theft. We looked at other competing products but found them to be too bulky, expensive and exclusively trendy. Rather than give into the madness of overpriced bells and whistles, we sought out to design a BETTER SILICONE RING, not only for ourselves but for all people.
How do TOUGH LOVE RINGS™ differ from competing products?
Tough Love Rings are different in many subtle, yet important ways.
First, our products are much more AFFORDABLE than competing brands. We have chosen not to use fancy gimmicks, fast talking celebrities or overly designed packaging to market our products as this increases the cost to the end customer. Instead, we have chosen to create a premium product without all the unnecessary costs. There are clear benefits to wearing silicone rings and we certainly don't want our customers to break the bank buying one!
Second, our rings are intentionally designed to be THINNER, more ergonomic, and yet still very durable. Over time, thicker rings will begin to irritate your finger, especially during any heavy lifting or squeezing of the hand. We have been told that our design is much more comfortable and quite unnoticeable while wearing it. We have even had people give us their old thicker silicone ring upon purchase of their TOUGH LOVE RINGS™!
Finally, we have chosen NOT to include our LOGO on the ring itself (more on that below).
Why don't you display your logo on your rings?
As the ultimate symbol between two people is the ring that they wear, TOUGH LOVE RINGS™ strongly believes that our logo should not come between them. We rely heavily on word of mouth referrals and top notch customer service to grow our branding.
Will TOUGH LOVE RINGS™ break?
TOUGH LOVE RINGS™ are indeed durable, but they are designed to break or be cut off using simple tools in case of an emergency. If your ring has broken or torn during an activity, consider yourself lucky that you were not wearing metal at the time.
Are TOUGH LOVE RINGS™ guaranteed?
Our TOUGH LOVE RINGS™ are guaranteed for life, no matter the circumstance. Whether your finger size shrunk from losing weight (yay!) or your TOUGH LOVE RING™ slipped off while boating, you are covered. Send us your crazy stories and we will add it to our list.
Any final thoughts?
TOUGH LOVE RINGS™ is not just a silicone ring company. Through the sales of our products, we are committed to supporting worthy charities and promoting LOVE in our relationships and our communities.
If you work to serve others, let us know by tagging us online (@ToughLoveRings) and use the hash tag #ShareTheLove.