WARRANTY and EXCHANGES
Buy with CONFIDENCE because TOUGH LOVE RINGS
TM
are
always covered
! Yes, our premium silicone rings are indeed TOUGH and DURABLE but they are not indestructible. They ARE intentionally designed to break in an emergency to keep you and your fingers safe! If at anytime LIFE HAPPENS
TM
to you, fill out the form below and we will work with you to get you a replacement ASAP!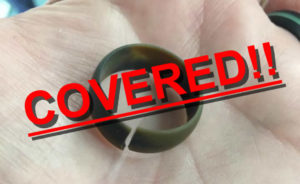 "I know you said Tough Love Rings are always covered, but what about…"
My Tough Love Ring snagged on a car door and snapped? COVERED! ✔
I lost a ton of weight (Yay!) and it doesn't fit anymore? COVERED! ✔
This dude got all up in my face and I had to handle business and I don't know where it went? COVERED! ✔
A kangaroo snuck into my tent and ran off with it! COVERED! ✔
I changed jobs and need a different design to cover my new profession? COVERED! ✔
I fidget with my ring all day and snapped it by mistake? COVERED! ✔
I was "in the zone" water skiing and it slipped off while I was in the middle of a wicked flip? COVERED! ✔
My ring broke during my intense WOD?

Not Likely, but still COVERED!! ✔
No matter what, we got your back!
To help expedite the process, we will need some key information, but please know that all replacements do come with a small $3.99 shipping and handling fee. Other than that, bring on your best stories! Impress us with how Tough Love Rings saved your finger, and we might even cover your shipping charge (US customers only)! The best ones may even get posted to our "BEST OF" page (coming soon)!
Bottom line, we appreciate our loyal Tough Love Rings customers and we look forward to hearing your stories!
---